I'm joining
Sunday Favorites
hosted by Chari at Happy to Design. Please stop by and wish her a "Happy Anniversary" and enter her very generous give-away!
Sunday Favorites is a Sunday meme designed to give bloggers a chance to share a post from the past. Chari figured why couldn't we just copy and paste one of our favorite past posts that we had already spent alot of time and effort preparing and share them once again. Thus...Sunday Favorites was born!
So now you know why your viewing a post that I just recently posted. I know you thought I was crazy...
So without further a do... here is my post again:
I thought I would share some pictures of angels that are scattered around my home. My husband surprised me with my first cherub angel and I loved it so much he went back to the store and bought me a second one. Before I knew it I had a nice collection started...
My sister
Laura
bought me the sweet angel that is laying on top of my dresser in the guest bedroom. I think I bought myself the other angel with the harp that is standing on the same dresser. On the nightstand is a cherub angel...Do you think I might have a thing for angels? I also have the same cherub angel in my bathroom on my vanity and one more statue of two angels on my wicker stand. One is playing the flute and the other is playing a harp. I almost forgot the other angel on my mantel, my sister
Cheryl
bought that one for me, it's a tea light, I love the glow it gives off at night.
I'm am blessed with all the "ANGEL'S" in my life and I send my blessings to you.
Please be sure to visit Chari at Happy to Design and join in the party!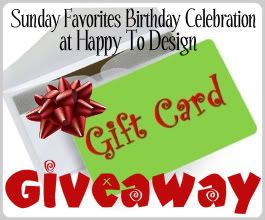 P.S.
**Don't forget the winner of the Sunday Favorites "Gift Card" giveaway can choose one of the five choices of gift cards from Chari:
*
1. A $50 gift card to Chilis Restaurant.
2. A $50 gift card to Hobby Lobby.
3. A $50 gift card to Home Depot.
4. A $50 gift card to Amazon.com.
or
5. A $50 gift card to Target Dept. Stores.